Custom Made to Order and Regular Catering Menus are Available!!
Contact us at 540-951-0990 or hethwoodmarket@gmail.com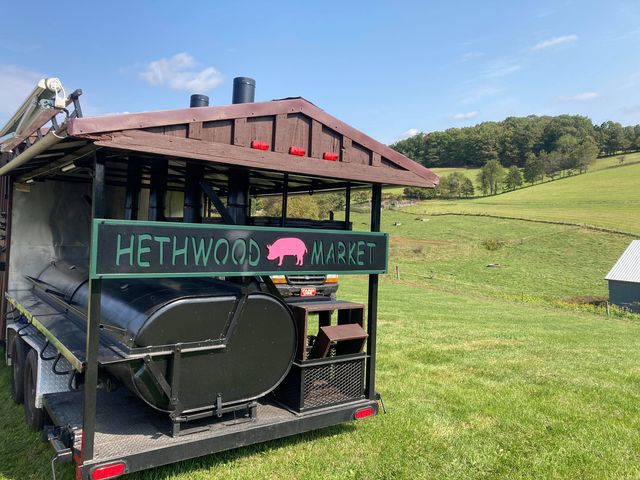 Feed Them Well!
If you are planning an event, from a holiday party to a tailgate feast, business lunch or picnic, count on us to satisfy your group.
Unlike supermarket platters, ours are freshly made for your event. Cookies, brownies, cakes, pies and cobblers are baked for you the same day they're served. Call us at 540 951-0990 to order!
Platters for Appetizers or Entire Meals
Platters can be used as appetizers or as an entire meal.
Gluten Free options available on request
Appetizer Platter Menu
Platter Options
Fresh Seasonal Fruit
Veggie Tray with Ranch Dressing
Cold Spinach Dip with Fresh Baguettes or Tortilla Chips
Cheese and Crackers
Pinwheels: Turkey, Ham or Veggie
Mini Chicken Salad Croissants
BBQ Pork Sliders
Mini Smoked Sausage Sandwiches
Quesadillas: Chicken, Beef, Pork or Vegetarian
Brownie Bites
Assorted Cookies
Prices
| | | |
| --- | --- | --- |
| 12 inch platter | $25 | Feeds about 15 people |
| 16 inch platter | $50 | Feeds about 25 people |
Delivery Fee: It varies on the location and services needed.
Catering Menu
Main Courses

BBQ Pork
BBQ Chicken Breast
Grilled Italian Marinated Chicken
Hot Dogs
Meat or Vegetarian Lasagna
*Sliced Beef

BBQ Cheddar Apple Chicken
Baked Ham
Meat or Vegetarian Baked Spaghetti
Hamburgers
BBQ Pulled Chicken
*Slow Smoked Ribs

Main Courses

BBQ Pork
BBQ Chicken Breast
Grilled Italian Marinated Chicken
Hot Dogs
Meat or Vegetarian Lasagna
*Sliced Beef
BBQ Cheddar Apple Chicken
Baked Ham
Meat or Vegetarian Baked Spaghetti
Hamburgers
BBQ Pulled Chicken
*Slow Smoked Ribs

Side Dishes

Sweet Corn
Broccoli Casserole
Cooked Apples
Baked Beans
Cole Slaw
Mashed Potatoes

Garden Salad and Dressings
Seasoned Red Skin Potatoes
Green Beans w/ potatoes & bacon
Vegetarian Green Beans
Creamy Mac and Cheese

Side Dishes

Sweet Corn
Broccoli Casserole
Cooked Apples
Baked Beans
Cole Slaw
Mashed Potatoes
Garden Salad and Dressings
Seasoned Red Skin Potatoes
Green Beans w/ potatoes & bacon
Vegetarian Green Beans
Creamy Mac and Cheese

Desserts

Apple Crisp
Banana Pudding
Brownies

Seasonal Cobbler
Dirt Cake
Assorted Cookies

Desserts

Apple Crisp
Banana Pudding
Brownies
Seasonal Cobbler
Dirt Cake
Assorted Cookies

Drinks

Coke Products
Pepsi Products
Lemonade
Coffee

Homemade Sweet Tea
Unsweetened Iced Tea
Hot Apple Cider

Drinks

Coke Products
Pepsi Products
Lemonade
Coffee
Homemade Sweet Tea
Unsweetened Iced Tea
Hot Apple Cider
*add $3 per person
Gluten Free options available on request
Pricing:
Buffett Style:
1 Main Course: Choice of one main course, two sides, one dessert & two drinks. $9.00 per person
2 Main Courses: Choice of two main courses, two sides, one dessert & two drinks. $12.00 per person
2 Main Courses: Choice of two main course, two sides, one dessert & three drinks. $13.00 per person
Individually Packaged:
1 Main Course: Choice of one main course, two sides, one dessert & two drinks. $11.00 per person
2 Main Courses: Choice of two main courses, two sides, one dessert & two drinks. $14.00 per person
2 Main Courses: Choice of two main course, two sides, one dessert & three drinks. $15.00 per person